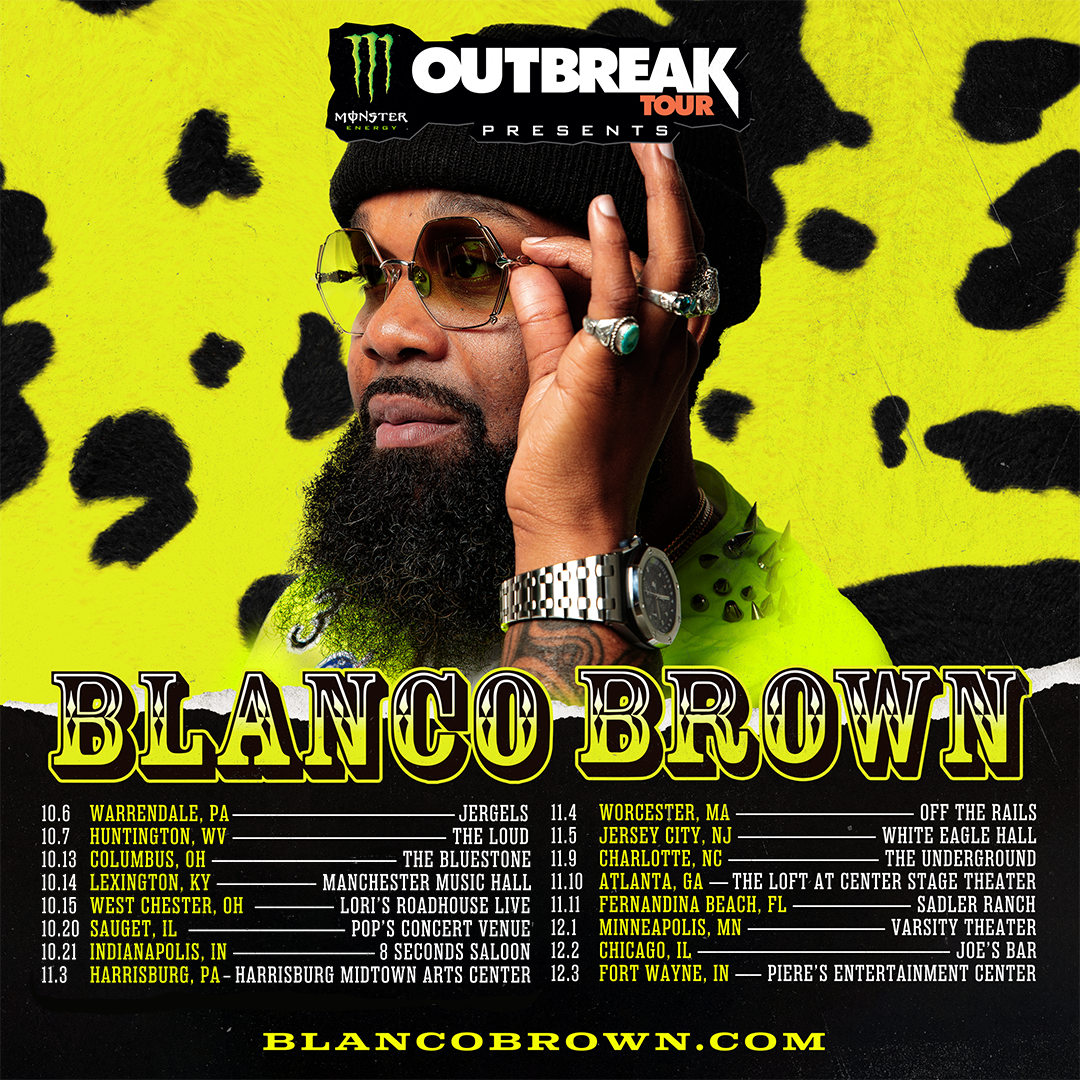 I'm heading out for my first ever headline dates this Fall as part of the Monster Energy Outbreak Tour! Tickets go on sale this Wednesday at 10AM local time. Check out the full routing below and hit the tour section for ticket links.
10/06 – Warrendale, PA at Jergels – TICKETS
10/07 – Huntington, WV at The Loud – TICKETS
10/13 – Columbus, OH at Bluestone – TICKETS
10/14 – Lexington, KY at Manchester Music Hall – TICKETS
10/15 – West Chester, OH at Lori's Roadhouse – TICKETS
10/20 – Sauget, IL at Pop's – TICKETS
10/21 – Indianapolis, IN at 8 Seconds Saloon – TICKETS
11/03 – Harrisburg, PA at HMAC – TICKETS
11/04 – Worcester, MA at Off The Rails – TICKETS
11/05 – Jersey City, NJ at White Eagle Hall – TICKETS
11/09 – Charlotte, NC at Underground – TICKETS
11/10 – Atlanta, GA at The Loft – TICKETS
11/11 – Fernandina Beach, FL at Sadler Ranch – TICKETS
12/01 – Minneapolis, MN at Varsity Theater – TICKETS
12/02 – Chicago, IL at Joe's – TICKETS
12/03 – Fort Wayne, IN at Piere's – TICKETS
Press Release:
August 22, 2022 – A little bit country and a little bit hip-hop, Blanco Brown is gearing up to take the Monster Energy Outbreak Tour by storm this fall. Brown proudly calls his boundary-breaking signature sound "TrailerTrap." The rapper, singer, songwriter, multi-instrumentalist and record producer has had high profile collaborations with the likes of Diplo, Nelly, and Parmalee as well as two singles that shot to the top of the country music charts. Now, after surviving a nearly-fatal motorcycle accident which sidelined him for nearly a year, Brown returns to the road to headline the Monster Energy Outbreak Tour, kicking off in Warrendale, PA on October 6th.
"Growing up, if anyone had told me I'd be doing my own headlining tour, I never would have believed it," said Blanco. "It's such an amazing feeling, hitting the road on the Monster Energy Outbreak Tour. I'm excited to get to present my own show and connect with my fans in my own way. It's go time!!!"
Hailing from Atlanta, Georgia, Blanco Brown grew up with one ear attuned to hip-hop artists like Outkast and the other ear absorbing country artists like Johnny Cash. His first big break was a playful YouTube dance instructional video for the single "The Git Up" in which he appeared alongside country artist Lainey Wilson. The most successful line dance song of all time, "The Git Up" has amassed 289 million Spotify streams, and it later topped the Hot Country Songs chart and cracked the top 20 of the Billboard Hot 100. Brown has since produced for Chris Brown and Pitbull and earned a second number one single on the country music charts as a featured vocalist on the band Parmalee's single "Just the Way."
Headlining the Monster Energy Outbreak Tour is a milestone event in a comeback year for the rapper, songwriter, and producer.
Tickets for The Monster Energy Outbreak Tour featuring Blanco Brown will go on sale to the general public on August 24, 2022. See the full schedule below, and visit www.outbreakpresents.com for more information.