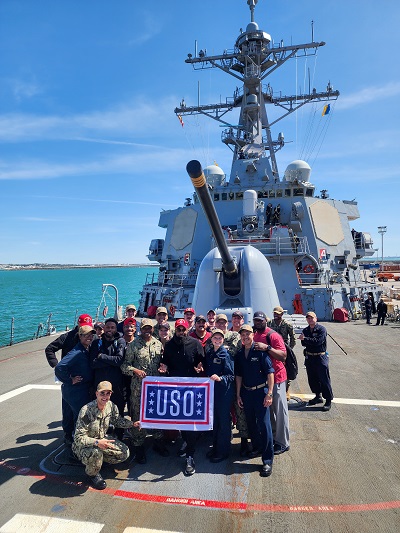 Country music hitmaker and viral sensation Blanco Brown joined the United Service Organizations (USO) for a four-day tour with Sailors aboard the Nimitz-class aircraft carrier USS George H.W. Bush (CVN 77) from March 25-26 before joining service members and their families at Naval Station Rota in Rota, Spain from March 27-28.
During his touring time, the singer-songwriter performed two electrifying concerts that had U.S. troops line dancing to his hit song "The Git Up."  Additionally, Blanco Brown had a meet and greet with top Sailors from the George H.W. Bush, was a guest judge for their talent show, and visited with thousands of service members as the first celebrity to use the USO's inaugural floating USO Center aboard George H.W. Bush.
Find tour photos and video here.
"The USO tour was amazing, far beyond anything I've ever imagined," said Grammy nominated singer-songwriter and producer Blanco Brown. "I had a lot of fun, and the experiences will live with me and through me for the rest of my life. I would love to get back out there and support the troops as much as I can because my purpose is bigger than my brand."
After his time underway aboard the USS Bush, Blanco Brown landed in Southern Spain for his visit to Naval Station (NAVSTA) Rota where he hosted a troop appreciation picnic lunch and performed a thrilling concert in front of the blended multi-service, multi-nation crowd of Spanish and American community members.
"It was an honor to have Blanco, his team, and the USO aboard our ship to give our warriors the experience of a lifetime. The crew had a blast during the concert, and the time spent with individual crew members during the stay, paid huge dividends in crew morale," said Capt. Dave Pollard, commanding officer George H.W. Bush. "We've been blessed with tremendous support from the USO throughout deployment, and special events like this one make a significant impact on lives. We thank Blanco and the USO for coming out to be a part of our story aboard Freedom at Work."
"We were thrilled when we received word that Blanco Brown was coming to Naval Station Rota for the final leg of his global tour with USO. Everyone from our service members, families and even Spanish local nationals here at Naval Station Rota had a blast spending the day with Blanco Brown and his crew. The way he authentically engaged with our Rota community members at the USO troop appreciation picnic before his evening performance speaks volumes to the artist and person Blanco Brown is," said Capt. Teague Suarez, commanding officer of Naval Station Rota. "A huge thank you to the Blanco Brown crew and USO Global Entertainment team for making this once-in-a-lifetime event a reality for our U.S. service members, families and Spanish friends."
"The energy Blanco Brown brought to his visit aboard the USS George H.W. Bush and to Naval Station Rota was only matched by the excitement of the service members and their families," said Jennifer Wahlquist, Vice President, USO Global Entertainment. "We are so grateful for all the entertainers and athletes who show their appreciation for our military and lift their spirits with moments like these."
This was the first tour for Blanco Brown and part of the USO's ongoing efforts to boost the morale of U.S. troops and their families stationed around the world.
USO Global Entertainment is the gold standard for delivering first-class entertainment programming to U.S. military service members and their families. Partnering with entertainment and sports industries, the USO brings celebrities and athletes to military locations worldwide. Through one of a kind, in-person tours and its Military Virtual Programming (MVP) series, the USO creates meaningful interactions that uplift & strengthen service members and their families and remind them how much their sacrifice is valued.
Since its formation, the MVP series has featured more than 270 celebrity guests, visiting with service members and families from every U.S. state & territory, 39 countries and 29 ships at sea.  In 2022, the USO delivered 27 tours and 34 MVP sessions to over 40,000, across 30 countries, and 427 military sites to service members around the world including tours to Australia, Colombia, and Greenland.
USO Global Entertainment offers worldwide limited on-demand content through its mobile app and streams content on its social media platforms, offering a wide range of unparalleled entertainment programming. To date, content streamed across USO platforms has garnered over 1 million views and featured artists such as Carrie Underwood, Florida Georgia Line, Ne-Yo, Idina Menzel, Ewan McGregor, and Dolly Parton.